Directly improving the communities in which we are part of
Ventro strongly believes that we should support local communities in the areas in which we work. We do this by giving back to local charities, supporting food banks and offering local employment opportunities.

Take a look below to see what we're doing for the community.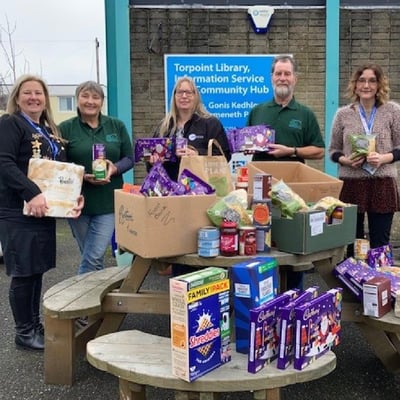 Looking After Residents
Making sure residents understand us and the work we are completing within their houses is crucial to us to ensure work can flow smoothly for both workers and residents.
To improve and develop this, we host our resident engagement coffee mornings are part of our wider community engagement initiative. We are passionate about bringing local people together and helping them to feel connected, and part of their community. We have a dedicated resident engagement team that support residents every step of the way and give insightful guidance and quality support throughout the delivery of each project. 
Ensuring That All Residents Are Looked After
To Feel Safe In Their Homes

To Have Complaints Dealt With Quickly and Fairly

To Be Treated With Respect

To Have Good Quality Homes With Top Quality Works Provided To Improve Their Homes

To Live Their Lives With Minimal Disruption
"We are grateful to the Ventro Staff for their kind donations, especially at Christmas."
Torpoint Library and Community Hub,
Trussell Trust Foodbanks
"I love how a card was left with contact details to get in touch and re-book. Quick response and booked in for a time that suited."
Housing Resident,
Curo
Our Sustainability Efforts
We all understand the need for urgent action. This is how we foster a sustainable culture inside Ventro and LivGreen and with people who employ us for fire safety.
All project staff are trained and educated on climate change. We're all carbon-literate on how our everyday decisions are generating CO2. This embeds a low-carbon, green way of thinking in our personal and business habits.

Our supply chain is vetted through our procurement process. They must demonstrate their sustainable approach and we monitor this on an ongoing, monthly basis.

Technicians' vehicles are checked for emission levels and are all low-emission models. Our team is trained in energy-efficient driving and maintenance habits, too. This has reduced our average fuel consumption by 19% from 2 years ago.
Waste Disposal

Using Go Green Reports to track our waste disposal from live site projects.

Carbon Neutral Printing

Ensuring all printed materials come from a carbon-neutral source.

Working Towards Net Zero

Ensuring we are working to reduce our carbon emissions.

Sister Company - LivGreen

Retrofitting Specialists within Social Housing.
Communities and Social Values
At Ventro Social Value is important to us as we strive on making changes to better people and have a positive impact on those close to our working projects and local communities. We are accredited for Social Value through Construction Line.
Social Value is comprised of jobs and economic growth; health, wellbeing and the environment; and strength of community. "Social Value means in practice is likely to change from one job to the next, as different buyers will have different priorities when it comes to social value." A few examples of what these differences can be:
Training for local people in areas of high unemployment
New or restored green spaces in built-up communities
Educational resources for local schools and places of learning for young children and adults