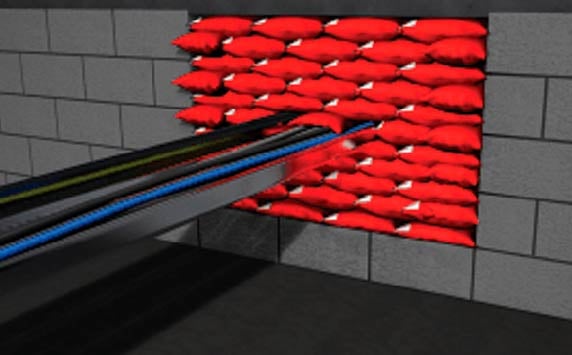 What Makes Ventro's Compartmentation Special?
Passive fire protection must be present on your business premises. In the event of a fire, this gives people additional time to evacuate a building safely by preventing fire routes from becoming part of the spread. This also allows fire and rescue services to arrive before it spreads out of control.
We provide several solutions to ensure the integrity of the compartments within your buildings, such as:
Fire Stopping: Fire stopping products are designed to stop the passage of flame and smoke, typically around services or where there may be penetrations between compartment lines. We work with the leading manufacturers in the world to ensure that we are bringing the latest and most innovative fire stopping solutions to your project. When installing fire stopping, it is important to consider future-proofing the area, such as installing fire stopping methods that can be adjusted for additional services at a later date, for example.
Fire Door Systems: Fire doors compartmentalise smoke and fire to stop it from spreading at pace. That's exactly what our range of industry-leading and fully regulated fire doors do. This includes fully serviced fire door Healthcheck, Installation and Maintenance.
Fire Dampers: Fire dampers are a vital part of our compartmentation strategy. They help limit and extinguish a fire without further damage. Ventro's range of smoke dampers can protect all environments and protect all types of ventilation systems from fire penetration.


Our Three-Step Approach to Identification, Installation and Maintenance
We're a third-party accredited fire safety specialist that offers a unique three-step approach to providing fire compartmentation services.
Health checks

We identify when and where to implement fire compartmentation in your building. By undertaking compliance inspections, we identify exactly what needs attention.

Planned programs of works

Our end-to-end project management process provides a full turnkey solution for fire compartmentation. This includes scheduled installation of preventative fire door, sprinkler and damper systems following all compliance and building requirements.

Regulatory routine maintenance

Having faulty fire equipment can prove even more dangerous than none. When installing fire safety equipment for smoke prevention, it's vital to ensure everything is in order. We conduct regular check-ins with our ongoing regulatory routine maintenance contract with all of our partners.
Why Does This Make Ventro the Partner of Choice?
Ventro's range of effective compartmentation equipment and strategy ensures fire checks are for safety and compliance.
Today, more than 1,000 sites around the UK use Ventro services for fire safety. The most effective compliance tools can ensure ventilation and air systems stop the smoke from spreading. As part of our passive fire safety strategy, we rigorously test our equipment for the best quality of service and value.
Testing and compliance are of the utmost importance. We'll help you implement the best compartmentation strategy for your building. To learn more about how your building could benefit from our fire prevention expertise, reach out to our team today.