When maintaining fire safety, healthcare facilities face several sector-specific challenges. Not only are there often additional fire risks posed by the use of specialised medical and surgical equipment, but in many of these settings, the vulnerability of those on site also needs to be taken into account. Emergency evacuation procedures can become complicated where there are patients with mobility issues, the elderly, or patients receiving specialist care for conditions such as dementia. At Ventro, we bring our understanding of these challenges into every solution we develop for our healthcare clients.
Detailed site inspections
To establish your needs and the potential fire hazards in your facility, so we can develop an effective solution
Seamless installation process
Carried out by our experienced team of fire safety engineers with minimal disruption to your patients and your team
Fire system maintenance
Conducted at regular intervals to secure long-term compliance and ensure your systems are always working to keep everyone safe on site
3-Step
Approach
Receive complete end-to-end support from our dedicated team of fire safety experts
100,000 Sites
Nationally
Become one of over 100,000 sites across the UK that has achieved and maintained high standards of fire safety and compliance with Ventro
How we help
Calling upon several years of industry experience, our dedicated team of fire safety and compliance professionals are on hand to work alongside you in developing a practical and pragmatic solution which minimises fire risks and ensures the safety of everyone on site, including those who are most vulnerable. We offer complete end-to-end support, from initial site assessment to installation, maintenance and beyond, enabling you to invest in comprehensive solutions that will secure your long-term fire safety compliance.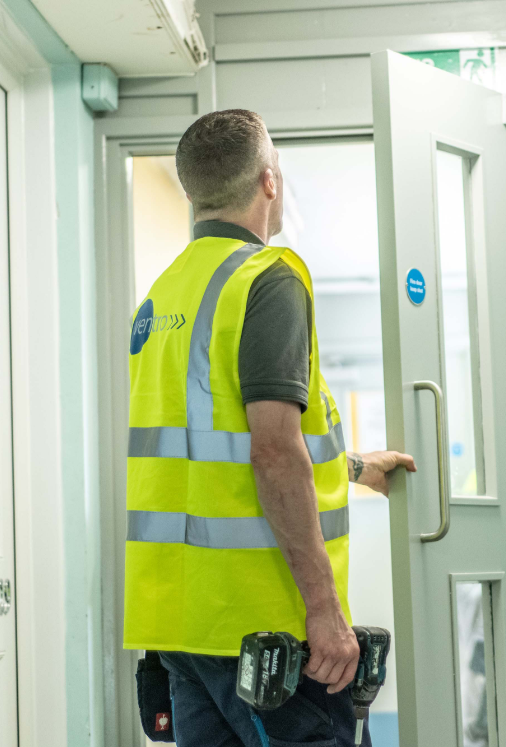 Patients
We understand the difficulty of undertaking critical fire safety works and ensuring those carrying out the operation comply with hygiene standards to protect the patients. To help overcome this issue, Ventro develops a programme of works in conjunction with the hospital that can protect the patients from a hygiene standpoint and the risk of Fire. Ventro ensures the operatives working on site are fully trained to deal with the complexities that arise when working in hospitals.
Regulations
As with other sectors, Ventro appreciates how challenging it is to keep up with constantly changing regulations. Our response to this issue has been to provide regular webinars that offer a platform for like-minded individuals to gather, albeit virtually, and discuss some of the latest fire safety problems that professionals face nationwide. "The Pulse" is an example of a webinar hosted by Ventro and had guest speakers, Peter Aldridge of NAHFO and Mike Hobbs of Honeywell, who provided the attendees with an insight into familiar problems and solutions to those problems plus a deeper analysis of HTM 05-03.
Procurement
Ventro's goal is to make the procurement process as easy as possible for all sectors in which we operate. The framework route allows hospitals to comply with procurement regulations whilst making the process seamless and quick to enable the project to be carried out swiftly and ensure the critical, lifesaving works get done.
Third-Party Accreditations
Now that the Building Safety Act has now passed through parliament, hospitals up and down the country are struggling to understand what is meant by the "competent person". Conversations that we have often been part of have discussed what exactly constitutes competency.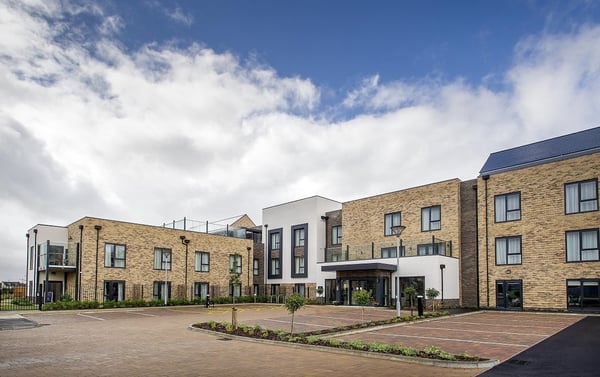 Healthcare / Hospitals
Hamberley Care Homes Passive Fire Prevention
An Overview of the Passive Fire Prevention services that were carried out, and how Ventro worked throughout the project in 2022.
Read More +
Explore Further Content on Healthcare Fire Safety and Compliance
Ventro has put together a targeted series of events running throughout the year covering all aspects of fire safety across every sector to work with, share, learn from and teach our conscientious clients and to continue to drive improving standards.
We have put together a recap of the highlights from our webinar 'The Pulse: Fire Safety In Hospitals' in case you missed it or would like to look back over it.
Now is the Time to Invest in Fire Safety.
Look at Your Fire Compliance Options