The housing sector is the largest sector we currently work with and involves liaising with registered providers of social housing and local authorities to ensure residents are kept safe and buildings are maintained to the highest standards. At Ventro, we have a keen knowledge of the sector, understanding the complexities of the Section 20 process and how VIP lists are used, for example.
Fire safety health checks
Carried out when you first bring us on board and at regular five-year intervals to make sure the fire safety solutions you have in place remain effective.
Passive and active fire safety solutions
Installed on site by our team of fire safety experts, who remain committed to delivering an excellent standard of service while upholding our resident-centric approach
Handled by our in-house team of experts, we'll plan your installation works and liaise directly with your building's residents, so there's one less thing for you to worry about
To keep your building fully fire safety compliant and your tenants safe, we carry out regular maintenance checks and will reassess your needs to maximise the efficacy and efficiency of your fire safety solution
3-Step
Approach
Receive complete end-to-end support from our dedicated team of fire safety experts
100,000 Sites
Nationally
Become one of over 100,000 sites across the UK that has achieved and maintained high standards of fire safety and compliance with Ventro
How we help
Each of our experienced fire safety experts is dedicated to making sure your building is safe for your residents — and stays that way. We recognise having one point of contact for all things fire safety not only allows for increased efficiency but also minimises the risk of any errors being made due to miscommunication. That's why we're here to serve as your long-term fire compliance partner, providing support whenever needed and managing every aspect of your fire safety in-house, so you have one key contact you know you can trust.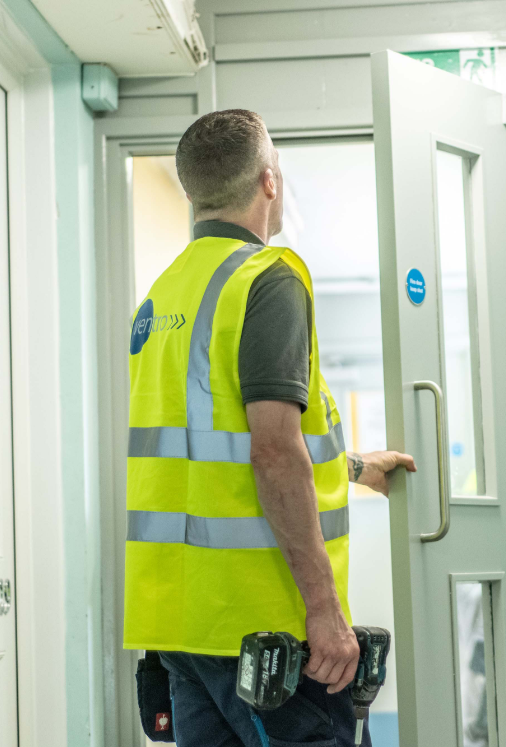 Residents
With a keen understanding of how much resident happiness and safety mean to the success of works in occupied buildings, we're proud of our in-house resident liaison service, which is multi-faceted to assist in delivering fire safety products with a resident-centric focus.
Regulations
Being aware of the latest legislation changes and keeping up-to-date with advice from central government and the Department for Levelling Up Housing and Communities (DLUHC) is a key part of our service. To support the clients we partner with, we hold monthly sector-specific events where the latest guidance is shared as soon as it's available, ensuring everyone is on the same page when it comes to fire compliance.
Procurement
You'll find us on most public sector (OJEU-compliant) frameworks across the UK, covering various localised geographies and services and offering a range of capabilities to ensure whatever service you're looking for, we have an appropriate framework partner to suit your requirements.
Asset Data
We've invested heavily in the latest technologies and systems to ensure the process of asset data collection and sharing is as quick and efficient as possible. Having developed our own surveying applications, portals and projection tools, our clients can rest assured that their data is protected and all projects are being managed with the most efficient systems in place.
Delve Deeper into Fire Safety & Compliance
Ventro has put together a targeted series of events running throughout the year covering all aspects of fire safety across every sector to work with, share, learn from and teach our conscientious clients and to continue to drive improving standards.
We have put together a recap of the highlights from our webinar 'Resident Safety: Our Joint Priorities' in case you missed it or would like to look back over it.
Secure Your Fire-Compliant Status
Get Started with Ventro Today