Your Fire Alarm System Maintenance Checklist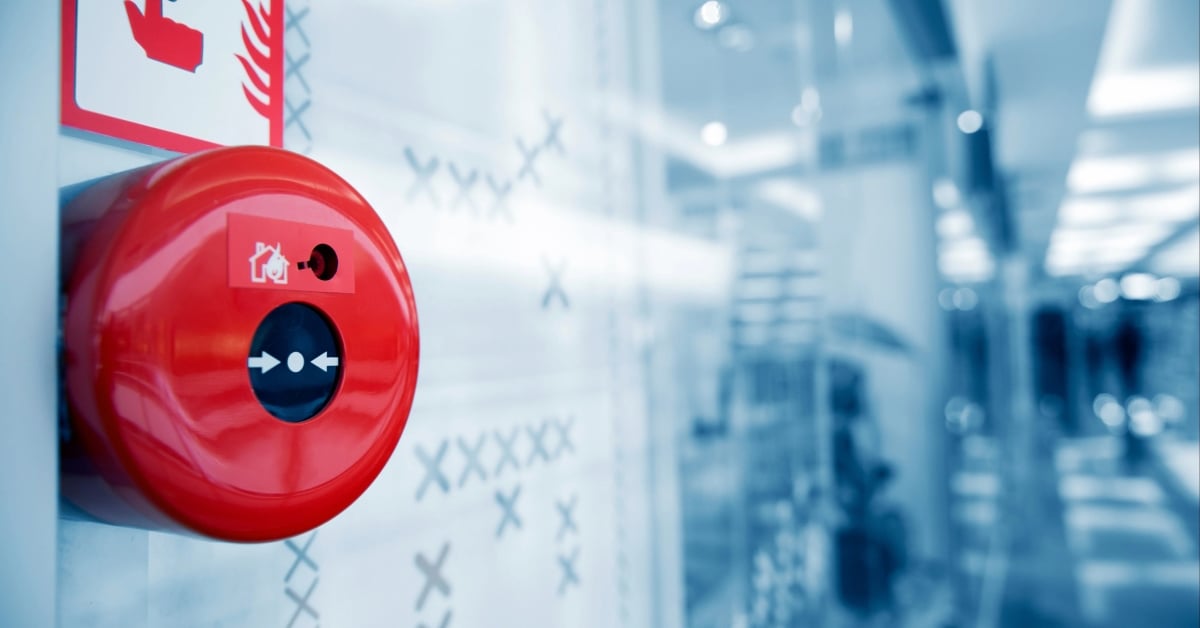 A fire alarm system has a crucial role to play in a building's active fire protection. They're designed to detect a fire early so occupants can evacuate in good time and you can take the necessary actions to stop the fire from spreading.
There are different types of fire alarm systems available and you need to be sure the one you choose meets the right requirements. It's also important that your fire alarm systems are regularly inspected and maintained to ensure they work correctly in the event of a fire.
We have created a fire alarm system maintenance checklist that covers the types of fire alarm systems available, what to look out for when you undertake an inspection and what to do if a fault is detected.

The Different Types of Fire Alarm Systems Available
By law, employers or building owners must install adequate and appropriate safety measures to minimise the risk of injury or loss of life in the event of a fire. Fire alarm systems have a key role in meeting these safety measures, and they must be designed, installed and maintained in line with the code of practice BS:5839 and Building Safety Act.
Within the code of practice, there are eight types of fire alarm systems. This section will provide a breakdown of each, outlining how they work and the types of buildings they are best suited to.
Category M - Manual Fire Alarm Systems
These are the least sophisticated types of systems and they're required in places of employment where there are no sleeping persons. As they're manual, they rely on the building's occupants to detect, activate the alarm and quickly provide a warning to anyone else situated in the building.
Manual fire alarm systems offer a good level of protection. However, if your building isn't highly populated and there aren't many people around to activate the alarm, you might want to consider choosing a different option to ensure employee and visitor safety.
Category P1 and P2 - Automated Fire Alarm Systems For the Protection of Property
P-category fire alarm systems are designed to protect property. They're mainly used for commercial buildings.
These types of alarm systems are usually monitored by an external central station and have immediate fire brigade attendance unless the site they are installed on is staffed 24/7.
A P1 fire alarm system involves working with a fire safety specialist to install fire detectors in all areas of the building. By doing so, you can ensure the system is protecting all the critical operations of your business should a fire break out.
Unlike Category M fire alarm systems, these systems are automated. This means they don't require someone to raise the alarm and instead will be triggered if the alarm senses smoke, heat or gas.
A P2 fire alarm system is a little different. That is because these systems are only installed in high-risk areas of the premises. While a system like this doesn't provide the same level of cover as a P1 solution, it does provide early detection for the most likely sources of fire.
Category L1 - Maximum Life Protection Fire Alarm Systems
These systems are also automated and offer the most comprehensive level of protection. Detectors are installed in all areas of a building and linked up to a centralised alarm system that alerts the whole building should a fire break out.
A category L1 fire alarm system is most commonly used in large commercial buildings such as hotels, care homes or hospitals, where early detection is crucial to make sure everyone can evacuate the building, regardless of where they're located.
Category L2 - Additional Life Protection Fire Alarm Systems
Category L2 fire alarm systems feature detectors in all escape routes and rooms that lead onto escape routes, similar to an L3 system. In addition, any areas of a building that are deemed to have a specific fire risk will also have suitable fire detection installed.
These systems provide an early warning to occupants beyond the source of fire by automatically raising the alarm. Examples of buildings in which these alarm systems are typically installed include factories or medium-sized residential premises.
Category L3 - Standard Life Protection Fire Alarm Systems
Category L3 systems feature detectors in escape routes and any rooms within a building that lead to an escape route. They're designed to automatically warn occupants that a fire has occurred so they can locate a fire exit before flames, smoke or toxic fumes block it.
This category of systems tends to be installed in regular-sized commercial buildings such as office blocks or any other type of building with a flight of stairs.
Category L4 - Modest Life Protection Fire Alarm Systems
A category L4 system only consists of detectors in escape route areas such as corridors and stairways. They're generally installed in buildings that have a lower level of risk.
This might include premises such as office blocks situated on the ground floor only or a residential building, which would require less warning to make sure everyone evacuated safely and in good time.
Category L5 - Localised Life Protection Fire Alarm Systems
This system is installed to tackle a specific fire risk. For example, one of these systems might be located in a server room, where there are different objects that could ignite and put a building at risk.
An L4 category system may be appropriate for the building in general, but an L5 system is also required to recognise the level of risk this particular room presents.
So, you now have a clear understanding of the types of fire alarm systems and where they need to be installed. But what should you look out for when you undertake an inspection? And how often should these inspections be carried out?
How to Undertake a Fire Alarm System Inspection
Inspections on your fire alarm systems should be carried out regularly to be sure it offers optimum fire protection. According to the British Standards, a fire alarm system should be tested weekly.
As well as this, the Accountable Person of the building has a legal obligation to regularly service and maintain the fire alarm system. It's recommended this maintenance takes place at least every six months.
Inspecting your fire alarm system is a simple procedure. However, there are specific steps you should follow. These include:
Step 1: Put the fire alarm system on test (if it is externally monitored)
Step 2: Activate one of the fire alarm call points
Step 3: Confirm operation of the alarm sounders and any other connected equipment such as magnetic door holders
Step 4: Reset the call point
Step 5: Reset the fire alarm panel
Step 6:

Take the fire alarm system off test (if monitored)
Some other points to keep in mind include:
Ensure the control panel is checked for faults at least once every 24 hours
One manual call point should be tested in rotation weekly (the procedure relates to the process for this)
Keep the logbook up to date
Ensure that all relevant occupants of the protected premises are instructed in the proper use of the system
Ensure that appropriate action is taken to limit the rate of false alarms
Always clear space of at least 500 mm which is preserved in all directions around and below every fire detector, and that all manual call points remain unobstructed and conspicuous
It's important you follow the same procedure for all of the fire alarm systems on your premises. You should make sure your findings are recorded in a fire-safety log. The inspection should be carried out at the same time each week and any occupants should be aware the test is about to take place.
You should look out for certain faults when inspecting and testing your fire alarm systems. These include:
Occupants don't hear the alarm system when they should
The alarm system doesn't activate when it should do
There's any noticeable damage to the alarm, such as cracks or signs of wear
If you experience any of the above, you need to take action. If any faults are detected when you inspect your fire alarm systems, here's what you should do.
What Should You Do If a Fault Is Detected?
It's the duty of the Accountable Person to ensure a weekly test of the system is carried out under The Regulatory Reform (Fire Safety) Order 2005. However, if any defects or issues are picked up during the test, they should be dealt with by a competent person who has the necessary experience.
This competent person should be familiar with the fire alarm model, be able to identify which grade and category of fire alarm system you need (if it needs to be replaced) and have a firm understanding of the British Standard BS 5839.
With this in mind, it's recommended you work with a fire safety expert who'll have the knowledge and capabilities to ensure your fire alarm systems are maintained to the highest standards.
As well as being able to offer the support you need if a fault is detected in your fire alarm system, a fire safety expert will also be able to provide regular services so you can be sure you're achieving fire safety compliance.
Keeping on top of your fire alarm systems is just one part of meeting fire safety standards. Legislation is regularly changing and staying in the know can be tricky, especially when working on a busy schedule.
The latest building and fire safety legislation is the Building Safety Act. This Act is due to receive Royal Assent this year, with changes coming into effect within 12 to 18 months.
Learn More About the Act and What It Means For You
For employers, building owners and anyone else responsible for managing building safety, you must be aware of the Building Safety Act and any upcoming changes.
To help you get started, we've created a resource that looks into the background of the Act, what it includes and the types of buildings it applies to.
You can access your copy of the resource by hitting the link below.
Sign up for fire safety updates
You'll receive all the latest news and blogs straight to your inbox.