How Are Internal Fire Doors Fitted?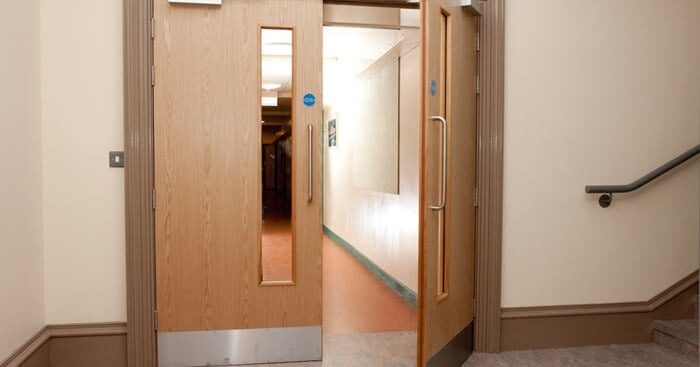 A fire door is an internal door built to slow down the spread of fire or smoke throughout a building, allowing more time for evacuation should a fire incident occur on a premises.

Due to their importance in protecting lives, it's crucial they're suitably fitted and regularly inspected. This article will explain how a fire door should be fitted to ensure maximum safety, from the types of materials used to staying on top of maintenance.
What Are the Different Types of Fire Doors?
There are various types of fire doors available. The type required will be determined by its location and the building it'll be fitted into.
As fire doors have the potential to save lives and reduce long-term damage, they must adhere to the building's strict health and safety rules. A fire safety expert can help you establish which type of door is best suited to your premises.
The different types of fire doors range in materials and levels of protection. Some of the most common types of fire doors used include:
Fire doors made of glass
Fire doors made of wood
Before you decide what types of fire doors you'll install on your premises, you should always make sure they're certified. This ensures they've been properly tested and are safe to use.
Once you've chosen the suitable option, you'll need to consider how it'll be fitted into your building.
How Are Fire Doors Fitted?
Fitting a fire door is a complex procedure. Therefore, only someone who has the correct training, such as an experienced fire safety partner, should install them.
There are several factors to consider, including the seals, frames and ironmongery. Here's what you need to keep in mind as you start the process of fitting a fire door.
Fire Doorset and Fire Door Assemblies
Fire doors can either be supplied as a complete doorset or a fire door assembly. A doorset comes from the factory as a complete unit including the leaf, frame and ironmongery. A door assembly is made up of components from different sources.
A doorset offers added peace of mind, as you can be sure the whole door will be fully compliant and manufactured in accordance with the relevant test data.
This doesn't mean a door assembly isn't compliant, as a specialist installer, who can understand the test data, would be able to specify the correct components. However, someone who doesn't have the expertise may not appreciate how essential it is that the correct items are used.
Fire Door Frames
The door frame is obviously a crucial fire door component. There are different types available and the ones that are certified will carry a label to identify the applicable fire rating.
Most timber fire doors would have a timber frame, but some doors have been tested in metal or MDF frames. Composite fire doors would often have a PVCu frame. Whichever frame is utilised, it's essential it matches the requirements of the test data and provides the correct fire rating you wish to achieve.
The frame must be fitted correctly to ensure it's effective if a fire breaks out on your premises. The correct fittings must be used at the correct locations. Following the installation, the frame should be properly sealed using the appropriate fire stopping materials.
Therefore, only someone who has the experience and training in doing this task should fit a fire door frame.
A fire safety expert will offer advice on the best types of fire door frames for your premises and install them to ensure you meet compliance requirements.
Fire Door Seals
Fire door seals are designed to swell and stop the spread of fire through the gaps at the top and sides of fire doors. Therefore, these seals must be fitted when you install a fire door so the gaps can be filled when subjected to heat.
Most fire doors come with grooves already designed for the seals to fit into. However, you should take your time and be cautious because of their importance, as they need to be appropriately fitted.
Many seals have a brush or rubber 'flipper' to control the spread of smoke in the early stages of a fire.
If you don't have previous experience in specifying or fitting seals to a fire door, you should always consider working with a fire safety expert who'll ensure the correct seals are used.
Ironmongery
Ironmongery includes all the items used on a fire door, such as hinges, overhead door closers, latches, locks and handles.
These different items are an essential part of the installation because the fire door won't work in the event of a fire unless each of them is fitted correctly.
When choosing ironmongery for your fire door, make sure it's certified and compatible with the rest of your fire door. Just because you've used a particular item of ironmongery on one fire door, doesn't mean it's suitable for use on a different door.
If you're unsure of what's needed, we'd always recommend working with a fire safety partner who can offer expert guidance along the way.
Tips on Maintaining Fire Doors For Maximum Fire Safety
Maintenance checks should be regularly carried out on your fire doors, as stated in the Regulatory Reform (Fire Safety) Order 2005.
These checks should be carried out at least every six months. However, there are some checks you can carry out more frequently to be sure the fire doors are performing correctly.
You should ask yourself several questions when conducting a safety check and making sure your fire doors are regularly maintained. These include:
1. Are your fire doors certificated?
As mentioned earlier, a certified fire door will carry a label to identify the applicable fire rating.
2. Are the gaps between the leaf and frame 3mm (+/- 1mm)?
Having the correct gap sizes is crucial for preventing a fire from spreading. So if they aren't 3mm, adjustments will need to be made to how the door is fitted.
3. Are the intumescent/cold smoke seals damaged or missing?
If this is the case, you must replace the seals immediately. A fire safety expert can advise you on the best type of seals for your fire door.
4. Are the hinges all firmly fixed with no screws missing?
A fire door must be firmly fixed for it to operate correctly. It could potentially jam or be difficult to open during a fire emergency if it isn't.
5. Do all handles and panic hardware operate correctly?
The handle on the door is also essential. If it isn't fitted correctly, it could also make it difficult for someone to open or close the door during an emergency.
6. Are the doors able to close in a controlled manner and are they free from obstruction?
It's vital that a fire door should open and shut freely. Ensure the door isn't binding on the floor covering or any other obstruction. The closer should shut the door fully from any position, without slamming.
Fire doors shouldn't be propped open, as the fire door will only work when it's closed.
7. Have your doors been inspected by a trained industry professional?
A professional should test your fire doors during a fire risk assessment. If they haven't been, make sure you tick off this exercise as soon as possible.
Are You Up to Date With Fire Safety Regulation?
Fire safety regulations are constantly being updated. Although it can be difficult to keep on top of them, you must do so to make sure your premises are safe and secure at all times.
The Building Safety Act is the latest piece of legislation regarding fire safety. There are some changes that Fire Safety Managers and other people working in fire safety should be aware of.
To help you get to grips with the Act, what it means for fire safety in the UK as we look to the future and ensure you're best prepared for any changes.
You can access your copy below.
Sign up for fire safety updates
You'll receive all the latest news and blogs straight to your inbox.