High Rise Building Safety: Choosing the Right Fire Equipment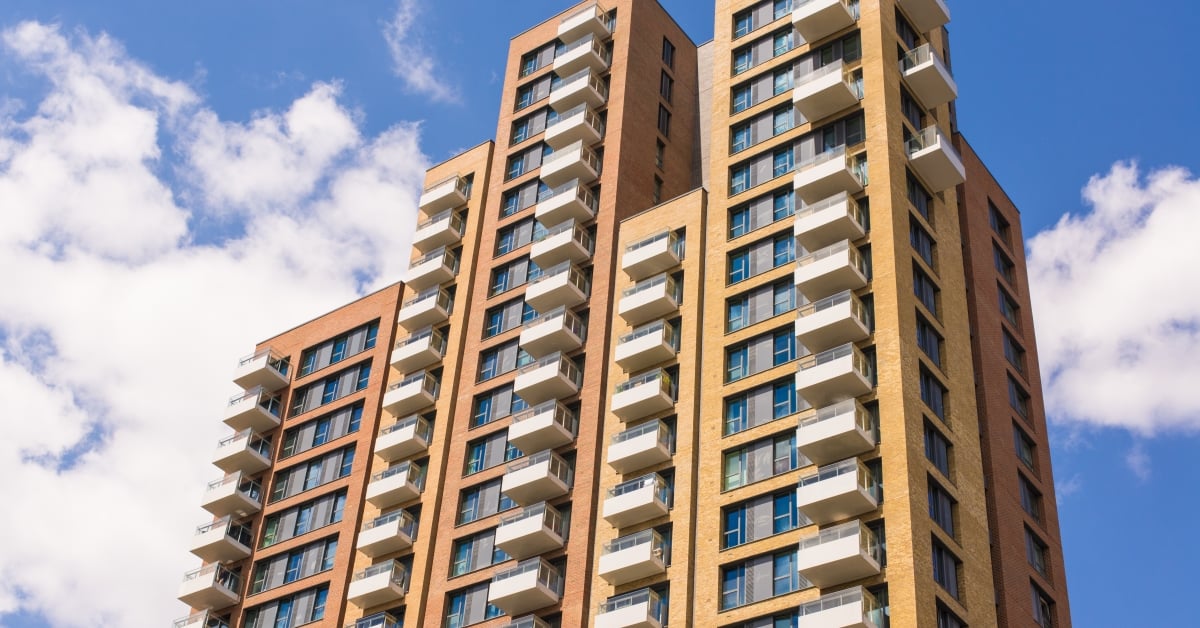 Since the UK Fire Safety Act came into effect in April 2021, it's essential for theAccountable Person of a high rise building in either England or Wales to ensure the premises are fitted with all the correct fire equipment. Not only will this mean you meet all the requirements when a fire risk assessment is undertaken, but it'll also keep the building and also anyone living in it safe at all times.
This article will explore the different types of fire equipment that need to be installed in a high rise building, so you're meeting compliance requirements.
So, what are the types of fire equipment you need to install?


Cladding
Cladding is a non-load-bearing layer of skin attached to exterior walls of buildings and properties. This layer of skin is fire resistant, meaning it won't ignite when exposed to a direct flame. There are different types of cladding material available. However, bricks, steel, weatherboards and reconstituted woods are the most fire resistant.
The fire rating classification for cladding material ranges from A1 to F under European Standards EN-13501-1. These include:
A - Non-combustible
B - Very limited contribution to fire
C - Limited contribution to fire
D - Medium contribution to fire
E - High contribution to fire
F - Highly flammable
Of course, we always recommend choosing cladding materials from category A. These types of materials offer maximum fire resistance and offer the best protection to the building and its residents in the event of a fire.


Sprinkler Systems
A sprinkler system is another critical component of high rise buildings' active fire protection system. In England, all newly built residential units over 18m are required to have sprinkler systems. In Scotland it is any building.
The systems include a water supply designed to automatically discharge water when a fire is detected in a building. By doing so, the water is aimed to control or extinguish the fire, freeing up time for people to safely evacuate the building.
There are four types of sprinkler systems you may look to install on your high rise building. These are:
A wet pipe system
A dry pipe system
A deluge system
A pre-action system
Wet pipes are the most common sprinkler system used in residential buildings. However, you should learn about the different fire sprinkler requirements for residential buildings before you decide which option is right for you.
Fire Barriers
Installing fire barriers in a high rise building is also vital as they're designed to stop the spread of fire in unseen roof and ceiling voids. This type of fire equipment has a pivotal role in your passive fire protection system. Without them, fire can spread five to ten times faster through a building.
These barriers should be installed near the edges of internal cavities, such as window and door openings or extract vents. Whoever is tasked with installing the barriers on your building should be fully qualified, as they must be fitted correctly.
If you or any other Accountable Person on your premises is unsure how to install fire barriers correctly, it's always recommended you reach out to a fire safety expert who can offer all the support you need.



Fire Doors
Internal fire doors are designed to prevent smoke and fire from spreading rapidly through a building. Like fire barriers, they're an integral part of a building's passive fire system.
There are various types of fire doors you should consider installing in your high rise building. They may be made of wood, steel or composite material.
Some fire doors can offer higher levels of protection than others. For a high rise building, you must choose fire doors that offer correct protection and have been appropriately tested and certified.
Several components make up a fire door and each one of them needs to be considered during installation. You can find out more about how to fit an internal fire door here.
Emergency Lighting

Emergency lighting is designed to guide residents during a fire evacuation. There are two main types of emergency lighting:
Emergency escape lighting
Standby lighting
Emergency escape lighting is defined as "the part of emergency lighting that is provided to enable a safe exit in the event of a fire or emergency." This type of lighting has a crucial role in a high rise building's fire protection system.
There are certain areas of a high rise building where emergency escape lighting needs to be installed. These areas are noted in the HM Government publication Fire Safety Risk Assessment and include:
Exit doors
Escape route areas
Lifts
Stairways
Changes in floor level
Outside each final exit and on external escape routes
Areas with fire equipment (fire alarm panels, fire extinguishers and manual call points)
When choosing what type of emergency escape lighting you want to install on your premises, there are two options. Some use central power sources while others are self-contained.
It's always worth reaching out to a fire safety expert before you make up your mind, as they can advise you on the pros, cons and which option is best for your building.


Fire Compartments
Fire compartments are designed to split a building into smaller areas to reduce the spread of fire and smoke.
These compartments are separated by compartment walls and compartment floors made of a fire-resisting construction that hinders the spread of fire from one area to another. The sealing of any openings or penetrations in compartment floors or walls is essential to maintain their integrity.
There are a range of fire stopping products that can be installed in a high rise building. When installed properly, they can contain a fire for up to four hours. These products include:
Fire-rated ablative batts
Sealants
Pipe collars and pipe wraps
Fire-rated paints and coatings
Fire dampers
Cavity barriers
Find out more about these products, their benefits and which ones are suitable for your premises in this insightful article.
Alarm Systems
All high rise buildings should have an appropriate fire alarm system in place. This is because an alarm system will detect any fire movement and then activate to make people aware that they need to evacuate the building.
There are different types of alarm systems available for installation in communal areas and flats. These differentiate by their set-up and wiring. They include:
Conventional fire alarms
Addressable fire alarms
Wireless fire alarms
Evacuation alert systems
Before installing these different types of fire equipment or running some maintenance checks on your current equipment, you must be up to date with the latest building and fire safety regulations.
This will ensure you're meeting compliance standards every time.
Are You Prepared For the Introduction of the Building Safety Act 2022?
The latest legislation around building and fire safety is set to come into effect between October 2022 and April 2023. For building owners and the Accountable Person, it's essential to know what's included in the legislation and the types of buildings it applies to.
To help you get started, we've created a detailed resource covering the background of the legislation, how it'll be enforced and what to consider before it comes into action.
Access your copy below.
Sign up for fire safety updates
You'll receive all the latest news and blogs straight to your inbox.