4 Fire Door Regulations You Need to Know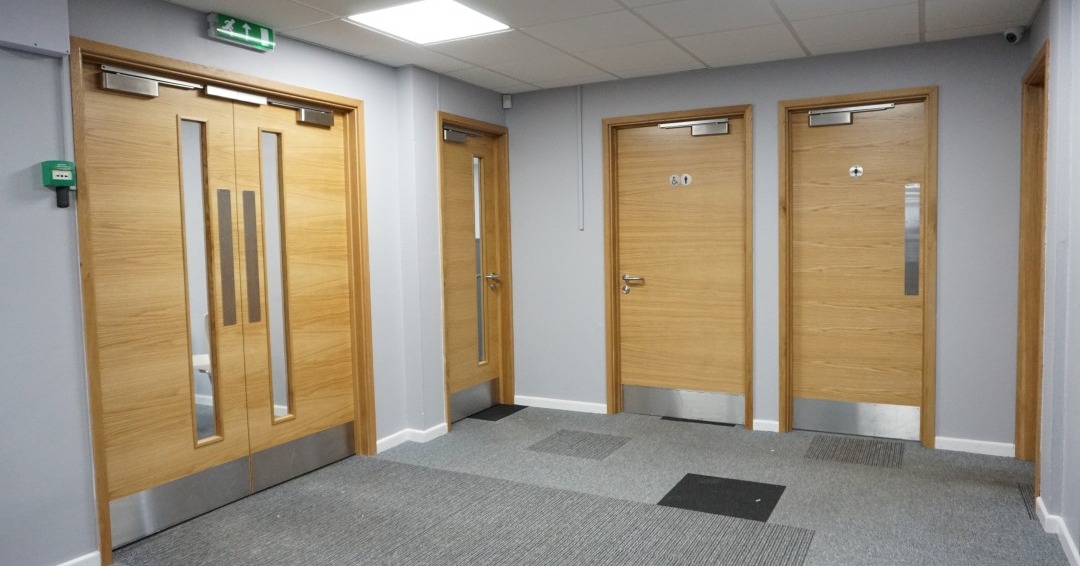 Fire doors are an essential aspect of fire safety for any property. They're designed to stop the spread of fire and smoke in a building for long periods. This ensures escape routes are protected so people can evacuate a building safely and provides more time for firefighters to extinguish a fire.
There are several regulations in the UK associated with fire doors. This article will provide a breakdown of each and what they entail.
The Regulatory Reform (Fire Safety) Order 2005
As set out in the Regulatory Reform (Fire Safety) Order 2005, it's a legal requirement for building operators in England and Wales to appoint an 'Accountable Person' to manage all of their fire safety precautions.
One of their key responsibilities is to take any action to reduce the risk of fire spreading within a premises. Fire doors play an important role in reducing this risk in most buildings.
The Regulatory Reform (Fire Safety) Order 2005 states fire doors are a legal requirement in all non-domestic properties, including businesses, commercial premises and public buildings. They're also required in residential flats and houses of multiple occupancies.
Fire doors are an integral part of a building's passive fire protection system and should be one of the first elements considered when you undertake a fire risk assessment.
Your fire doors must be installed in the right areas of a premises to offer maximum protection and meet compliance requirements. If you're unsure where these areas might be in your building, a fire safety expert can offer all the guidance you need and peace of mind that your fire doors meet the correct standards.
The Code of Practice for Fire Door Assemblies BS 8214
According to the Code of Practice for Fire Door Assemblies, any fire door installed in a premises needs to provide a similar level of resistance to the fixed elements within the building, such as the walls and floorsAccording to the Code of Practice for Fire Door Assemblies, any fire door installed in a premises needs to provide a similar level of resistance as per Appendix C table C1 of Approved Document B.
Within the legislation, recommendations are given for the specification, installation and maintenance of fire doors to meet compliance requirements.
The recommendations apply to timber-based hinged or pivoted pedestrian door assemblies or door leaves fitted into frames of any material.
Failure to correctly specify, install or maintain a fire door assembly could have potentially devastating consequences for a business or Accountable Person. It's therefore always recommended to work with an expert who has the knowledge and experience needed to make sure you don't fall short.
BS 9991 Fire Safety in the Design, Management and Use of Residential Buildings & BS 9999 Code of Practice For Fire Safety in the Design, Management and Use of Buildings
This code of practice is specifically related to fire safety in residential buildings' design, management and use.
The legislation guides the management of fire safety during the whole lifecycle of a building, including advice on how to install and maintain fire doors to achieve compliance.
During an inspection carried out by the Fire Door Inspection Scheme a couple of years ago, it was revealed that:
76% of fire doors failed their tests and were deemed not fit for purpose
30% of doors were reportedly poorly installed. Problems included excessive gaps around the doors, poorly-adjusted closers and issues with smoke sealing
57% of doors needed small-scale maintenance, meaning they weren't up to standards
16% of doors inspected weren't fire doors at all and therefore not safe for use
With these statistics in mind, it's highly advised that anyone in charge of managing a residential building's fire safety should work closely with a fire protection contractor to make sure fire doors are correctly installed and regularly maintained to the highest standards as recommended in BS 8214.
Approved Document B
There's also legislation relating to the fire safety in any property classed as non-dwelling. Items and buildings covered in this document include:
Living and working units
Storerooms in shop premises
Waste storage and refuse chutes
Shopping complexes and Malls
Similarly to the regulations mentioned above, this code of practice guides how fire doors should be installed and maintained within a non-dwelling building.
Due to the vast range of buildings in question, this document is quite extensive and there are many different elements of fire safety covered throughout.
The right fire safety expert should be clued up on how fire safety works in non-dwelling buildings, including the best practices for installing and maintaining fire doors.
What Does the Future of Fire Safety Regulation Look Like?
In addition to the regulations mentioned above, the Building Safety Act 2022 also sets out further requirements regarding fire doors and how fire safety should be managed across different premises in England and Wales.
The Act is set to come into effect between October 2022 and April 2023. It's crucial for the Accountable Person to understand what's included and how they can remain compliant.
We've created a helpful guide to help you learn more about the Act, the types of buildings it applies to and what you need to consider moving forward.
It's available to access for life. Download your copy via the link below.
Sign up for fire safety updates
You'll receive all the latest news and blogs straight to your inbox.