Regulations for Fire Doors Used in Corridors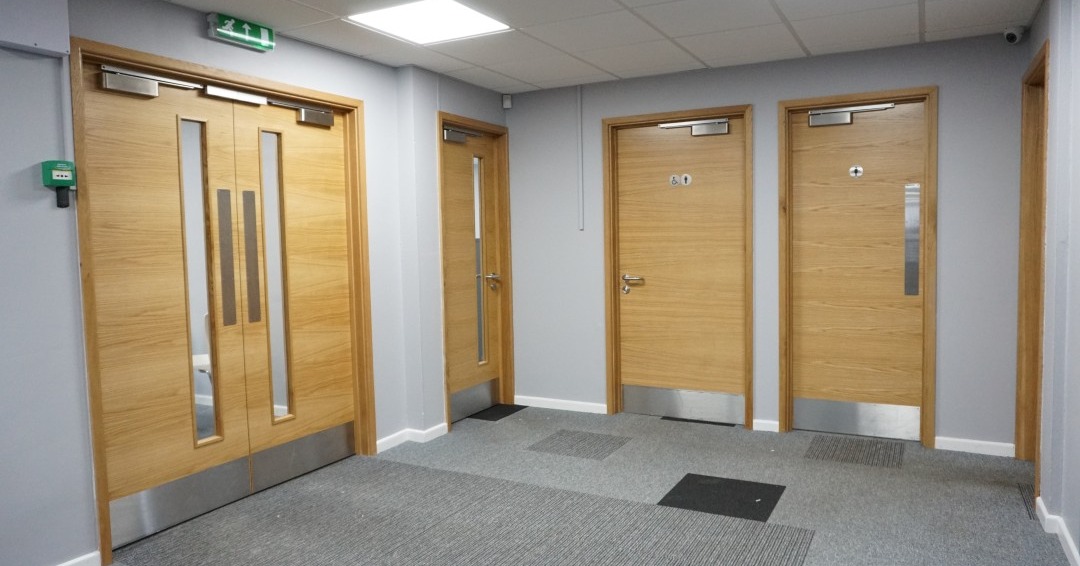 Fire doors in communal hallways and corridors are typically the main escape route for residents' safe evacuation. The latest Building Safety Act introduces new rules for the Accountable Person, giving them more responsibility for fire safety in all common areas of a high-rise building, including communal fire doors.
To maintain compliance, you must be aware of the most up-to-date regulations surrounding fire door requirements, especially in common or communal areas within your buildings.
Why Fire Doors Are Essential for Building Safety
Fire doors in corridors and stairwells are essential for stopping fires from spreading within a building, and an essential part of maintaining the integrity of the fire compartments within the building. When maintained regularly and to a compliant standard, fire doors also are key to keeping fire within one area, giving the fire service time to attend and extinguish a fire, should one occur.
In response to the Grenfell Tower tragedy in 2017, the government introduced various reforms to overhaul fire safety in the UK, especially in high-rise buildings. Some of the latest regulations of fire door compliance can be found in:
The Latest Regulations Surrounding Fire Doors in Corridors
There are many regulations around fire doors in common areas, but what action do you need to take to ensure compliance in your buildings?
The government's Fire safety: Approved Document B Volume 1 states that a building must be divided into compartments with fire doors to protect escape routes. In domestic dwellings above two levels and where the door leads to a habitable room, every door leading to a stairwell or corridor must be a fire door.
The Table C1 Provisions section of Volume 1 focuses on fire door sets and this outlines fire door rating requirements based on the location and position of the door. Hardware used on fire doors can significantly affect their performance in a fire, making door compliance essential to the overall safety of a building.
Following the latest legislation, it's now a legal responsibility for the Accountable Person in multi-occupied residential buildings above 11m to:
Undertake quarterly checks of all fire doors

, including self-closing devices, in all common spaces in the building
Schedule annual checks and safety reports of all flat entrance doors, including self-closing devices that lead onto a building's common areas
Provide residents with two or more sets of domestic premises information and guidance that outlines the importance of fire doors to a building's fire safety

To undertake best endeavour annual checks of flat entrance doors in multi-occupied residential buildings above 11m
Guidance on Fire Door Escape Routes
Effective fire door safety in common areas is key to a successful escape route. Guidance within the Fire safety: Approved Document B states that:
An escape route shouldn't pass through one stair enclosure to reach another, instead passing through a protected lobby

All common fire doors in corridors should be protected and the wall between each flat and the corridor should be a compartment wall
A common corridor should be divided, connecting two or more storey exits with a fire door fitted with a self-closing device


Guidance for the Accountable Person
Following the Building Safety Act, there's more emphasis on the Accountable Person's involvement in keeping buildings and residents safe. For all fire doors in corridors and stairways, the Accountable Persons must consider:
Alterations or damage to a door's glazing apertures
The gaps around the door frame
That seals and hinges are fitted correctly
That the door closer operates as it should and if it closes correctly around the whole frame
Any visible damage — either deliberate or from wear and tear — to the door closer
With multiple sites to look after in various locations, staying up to date with the new regulations with the limited time you already have can be a real challenge. However, with new legislation coming into effect, it's essential that you prepare for changes in your building as soon as possible.
Ensure Compliance With a Fire Door Healthcheck
Keeping up with the latest regulations on fire door compliance can be tricky. We can make sure your building's communal areas are safe with our fire door health check services.
To learn more, visit our health check webpage to arrange expert safety recommendations and services.
Sign up for fire safety updates
You'll receive all the latest news and blogs straight to your inbox.