Your Legal Obligations for Installing & Maintaining Fire Extinguishers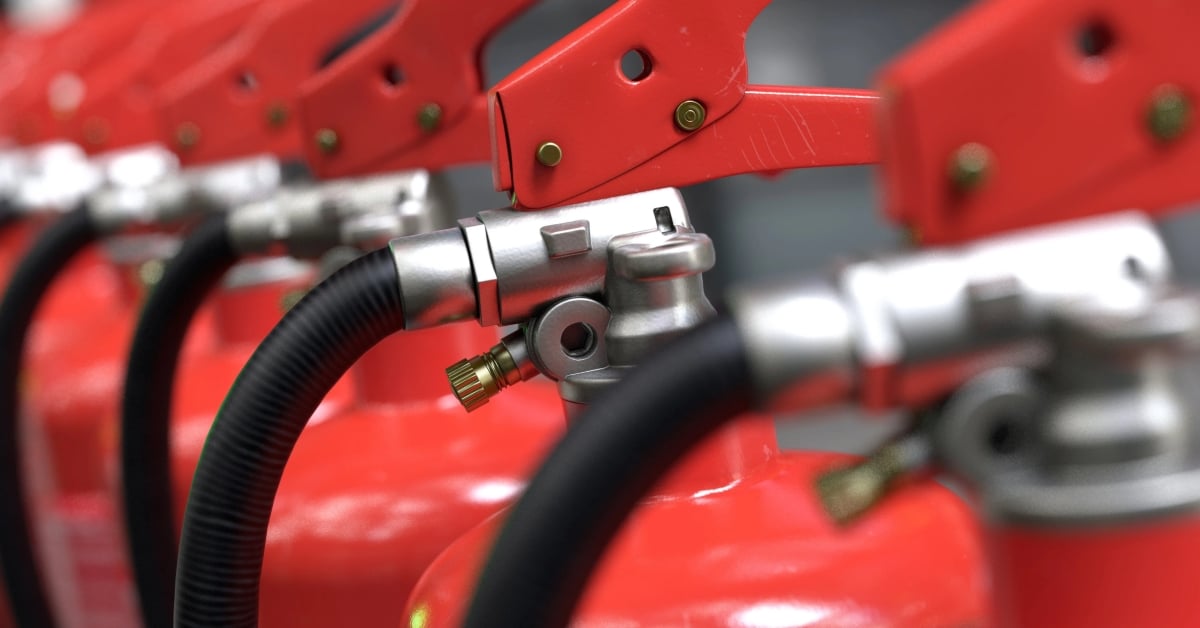 The Regulatory Reform (Fire Safety) Order 2005 states that fire extinguishers must be installed and maintained properly by a competent person who has all the correct qualifications to be sure you achieve fire safety compliance.
This article will outline your legal obligations for installing and maintaining fire extinguishers on your premises. Here's what we'll cover:
Who's Accountable for Installing and Maintaining Fire Extinguishers?
Every employer, owner or occupier of a business premises is accountable for fire safety and fire protection. This includes the installation and maintenance of fire extinguishers.
Whenever a fire extinguisher is installed or serviced, any work carried out should adhere to the British Standard BS5306-3: 2009. By doing so, you can ensure they'll function correctly in the event of a fire and are safe to use.
For this to happen, it's recommended you work with a BAFE (British Approvals for Fire Equipment) accredited company. They'll provide the most appropriate fire extinguisher for your premises, install it correctly and ensure it's regularly checked.
Before you decide which accredited company you want to work with, you should undertake a fire risk assessment of your premises. This will help you establish which areas of your premises will benefit most from fire extinguishers and the type of fire extinguishers that need to be installed. \
As the Accountable Person, there are specific actions you need to take to make sure you meet the legal requirements set out in legislation such such as the Building Safety Bill. Find out more about the Bill below.
What Actions Need to Be Taken With Your Fire Extinguishers to Achieve Compliance?
There are five different types of fire extinguishers available in the UK and Europe — each of them equipped to deal with different classes of fire. Choosing the right one for your premises is essential. These types of fire extinguishers include:
Class A: For solid combustibles, use water, powder or foam extinguisher types
Class B: For flammable liquids, use foam or powder
Class C: For flammable gases, use powder
Class D: For flammable metals, use a class D extinguisher
Class F: For combustible cooking media, use a class F extinguisher
Electrical: Appropriate for electrical Appliances
Once you've established which type of fire extinguishers are needed, the next step involves deciding where to put them. The main factor to keep in mind is that they're accessible and visible.
To ensure people have easy access to an extinguisher in the event of a fire, water-based and CO2 fire extinguishers should be located by exits and fire alarm call-points.
Specialist extinguishers should be placed in the correct area of the premises. For example, if you need a wet chemical extinguisher to fight class F fires, it should be within easy reach of but not too close to the specific fire hazard, such as a deep fat fryer.
On the day of installation, your fire extinguisher must be "commissioned" — this means they're assembled correctly and several checks are made to ensure they're reliable from day one.
A maintenance label should be affixed to the extinguisher by the competent person who installs the fire extinguisher. This label should include a range of relevant entries such as:
The date it was installed
The full weight of the extinguisher
The competent person's identity
The next service date
Although fire extinguishers should be maintained regularly by a fire safety expert, we'd also recommend they're checked monthly by an on-site member of your team (the Accountable Person).
There are certain factors the Accountable Person should keep in mind when running these monthly checks. These include:
Check the pin is still firmly in place and see that the tamper seal/OK indicator is fully intact
Assess the extinguisher for obvious damage such as dents, corrosion and leakages
Take a look at the service label and check the date it was last serviced by a competent technician. It's a legal requirement for a fire extinguisher to have been inspected within the past 13 months
UK fire extinguisher regulations recommend extinguishers be replaced or given an extended service/overhaul every five years. CO2 extinguishers should be replaced every 10 years, unless they're damaged or have been discharged. No extinguisher must ever be more than 20 years old.
We get that there's a lot to think about. Which fire extinguisher do you need? How can you be sure the third-party company you work with has all the correct accreditations?
To know all this, it's vital you keep up to date with all the latest fire safety legislation. The latest legislation is set to receive Royal Assent this year, with changes coming into effect within 12 to 18 months.
What Does the Building Safety Act Mean for You?
This piece of legislation is called the Building Safety Act and is aimed to make some pretty big changes to building and fire safety in the UK.
For someone busy, the last thing you want to do is dig through legislative jargon and feel overwhelmed by statistics. That's why we've created a handy resource that cuts through the noise, explaining what's included in the Act and what this means for the Accountable Person.
Ready to download your copy? Hit the button below to get started.
Sign up for fire safety updates
You'll receive all the latest news and blogs straight to your inbox.