Q&A with Andrew Saunders from the Building Safety Regulator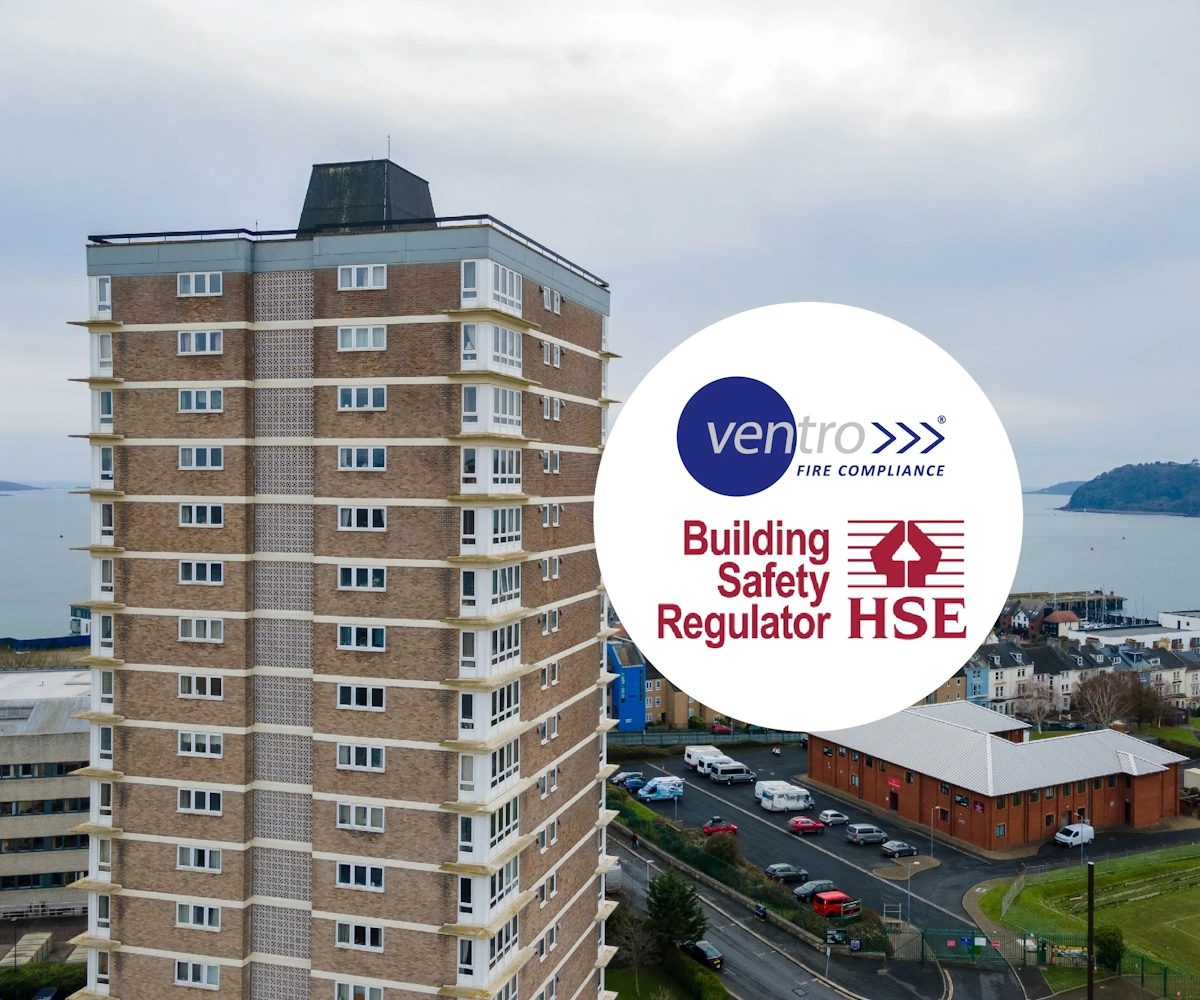 Ventro have delivered quarterly sector leading, thought leadership webinars throughout 2023. During our October 2023 webinar, "The Future of Fire Safety 2023 and beyond." we were lucky enough to host Andrew Saunders from the BSR who delivered an exceptional presentation focusing on the recent updates the Building Safety Act introduced, and more specifically, what will be required from APs & PAPs from the BSR.

Although time constraints may have prevented us from delving into all of your inquiries in-depth during the live event, we are extremely grateful that Andrew spent the time to answer all unanswered questions which we have included for you below.



An introduction to Andrew Saunders




---
---
---
---
---
---
---
Throughout this Q&A we will use a number of acronyms which we have detailed below for you.

Key:

AP = Accountable Person; FRA = Fire Risk Assessment
PAP = Principal Accountable Person; LPS = Large Panel System Buildings
KBI = Key Building information ACM = Aluminium Composite Material cladding
BAC = Building Assessment Certificate
BSC = Building Safety Case
BSCR = Building Safety Case Report

Text = Questions posed to Andrew Saunders
Text = Andrews responses
---
---
---
---
---
---
---
Q&A with Andrew Saunders


Can the PAP delegate their responsibilities to an AP under a contract?
PAPs (and APs) cannot delegate their legal responsibilities under a contract. If they meet the definition of an AP / PAP under the Act, then they have those legal duties.
They can use contracts to get others (e.g., managing agents, consultants etc.) to carry out some of the day-to-day work involved with the new duties – e.g., maintenance etc., but the PAP / APs retain the legal duty.

Is the exclusion of Hospitals and Care Homes from Part 4 requirements because it is assumed similar activities will already be in place under the Regulatory Reform (Fire Safety) Order 2005, regarding these types of property?


I have checked with a colleague at DLUHC (Department for Levelling up & Housing Committee) and his answer is:
"Several pieces of legislation including the Health and Social Care Act 2008, the Health, and Safety at Work etc. Act 1974 and the Fire Safety Order already provide for the safety of care home residents.
The higher-risk regime must provide proportionate rigour where most necessary. Stakeholders considered that the additional safety risks to hospitals and care homes occurred when they were built or when building work was being carried out in them. During use, care homes and hospitals, through various existing pieces of legislation, [are] already subject to duties to make them safe."
There are rumours that the height for the building safety act is set to be reduced to 11m in the future, does Andrew think this is likely?
I am not aware of any plans to change the scope of the Act at the current time. There are provisions in the Act for the scope / definitions to be amended so it could change in the future but not necessarily. This will depend on (among other things) – incidents, emerging knowledge and government policy.
There is some confusion with registered providers over the last couple weeks around the BSR requesting Key Building Information again, having already provided this to the regulator once, are you able to provide any further clarity on this?
I am aware that those PAPs who have started, but not submitted, a registration application have been contacted following the end of the transition period. For applications to register a building less than 28 days ago, the PAP has 28 days to provide the KBI.
It may be that some of those started applications are duplicates of already submitted applications, so it appears BSR is asking again for KBI.
I am not aware of anyone being contacted and asked to resubmit KBI. There is a requirement to keep it up to date, but that does not involve resubmitting it all.
If the delegate has particular concerns, please provide details and I will pass it on to the relevant team.
Is the building safety case a collection of documents that evidence how we are keeping the building safe? Or is it a 50-page document that outlines safety management systems, document links etc? I have heard that we will need to submit a BSCR, the building safety case as a longer document and a resident engagement strategy to get a BAC?

The safety case is a collection of information, documents, reports etc. related to managing building safety risks.
The safety case report uses this information make a demonstration that all reasonable steps have been taken. It is based on the information in the wider safety case and will likely make reference to material in the wider safety case. The difference with the report is that it needs to make an argument / demonstration that building safety risks are being managed. A collection of documents in themselves do not do that without a linking narrative.
When applying for a BAC, the PAP will have to provide a copy of the safety case report for the building, the residents' engagement strategy for the building and information about the mandatory occurrence reporting system (either in the safety case report or separately).
Although BSR may, as part of the assessment process, request specific additional information or documents referred to in the safety case report, PAPs will not have to submit the entire safety case.
How is it possible to achieve full building evacuation safely in a single staircase building, especially if Firefighting is taking place? How can a Safety Case and Fire Risk Assessment take this circumstance into account?
The Building Safety Act requires APs to take all reasonable steps to manage specified building safety risks (spread of fire and structural failure). Although it may require APs to take additional measures in existing buildings (depending on the assessment of risk and what is, or may, be reasonable), there is no requirement to bring all buildings up to the standards that would be required if built today.
Single staircase buildings are common, but it is important not to see the staircase in isolation. It is one of a number of control measures in place to manage risk. These include compartmentation, fire doors, cavity barriers etc. Some buildings have other measures that will contribute to managing risk such as automatic opening vents or sprinklers.
The safety case report should consider the control measures in place holistically rather than in isolation. One, single control measure is unlikely to manage a risk on its own. In buildings with multiple staircases, other measures will still be required in order to manage risk.
Many buildings are designed to operate a "stay put" policy in the event of an incident. In those buildings the design and control measures are focussed on preventing a fire going beyond the compartment where it started. In some circumstances full evacuation will be appropriate and this should be considered in the assessment and safety case report.


Question for the BSR, do you share the registration and KBI with other core govt departments e.g., home office? There have been some surveys released from other govt departments, that have overlapped with information we have already submitted previously to the BSR.

BSR does not currently share this information with other departments, but it may do so in the future. We do liaise regularly with other government organisations, and I will pass on your comments to the relevant team.

When will we know the buildings will be invited? Will we be told in advance or just wait and see?

Now that the transition period for registration has closed, BSR is reviewing its tranching and prioritisation of existing buildings. Once this is complete, we plan to publish an updated version of the table giving PAPs an idea of which year (from April 2024) they are likely to be directed to apply for a BAC. We currently hope to publish this in November this year, with the first applications being requested in April 2024. It will not provide an exact date or month when buildings will be assessed, but will give all PAPs a general indication and will help PAPs with a larger number of buildings with their prioritisation.
PAPs should not to wait until directed to apply for a BAC to prepare their safety case report, residents' engagement strategy etc. This is because, although most of the duties are qualified by the wording that what they require should be done "as soon as reasonably practicable" when the duty is in force, it would not be acceptable to wait 4 or 5 years before taking the necessary action.
Can you give an indication / very broad spectrum of the number of hours it will take to assess a BSCR? Thinking about budgeting for costs for this.
Unfortunately, it isn't possible to put a figure on the number of hours an assessment will take. Buildings will vary in complexity and how well the building safety risks are being managed.
Each application will be assessed by a team.
PAPs can help to minimise the amount of regulatory time that assessment will take by, for example:
Make sure you include all the elements required by the Act and Regulations, and associated guidance on gov.uk. That means you will minimise BSR requests for further information or another type of intervention
Use headings or a table of contents in the safety case report to help signpost assessors to where information can be found. If including appendices, make sure their titles / number or letter references match with their description in the main report
Ensure you provide a demonstration (claim, argument, evidence) that you have taken all reasonable steps, rather than simply a list of controls and systems
As a smaller private landlord (we manage just 4 buildings) however one of these is 6 storeys but could be over the height of 18m due to a plant room on the roof, will this fall under this regime?
Regulation 5(1) of The Higher-Risk Buildings (Descriptions and Supplementary Provisions) Regulations 2023 sets out how to determine the height of a building for the purposes of the Act.
This states "the height of a building is to be measured from ground level to the top of the floor surface of the top storey of the building (ignoring any storey which is a roof-top machinery or roof-top plant area or consists exclusively of roof-top machinery or roof-top plant rooms)."
In the case described, the roof top plant room would not be included in the height.
Further information can be found at Criteria for determining whether a building is a higher-risk building during the occupation phase of the new higher-risk regime - GOV.UK (www.gov.uk)
Hi Andrew, It sounds like the BSR are not necessarily including ALL LPS buildings in the first tranche. Is this because of the data on KBI showing larger numbers on buildings with ACM? Also, do you know when the table will be re-released? Thank you
We do, currently, expect to invite buildings with remaining ACM cladding to apply for a BAC during the first year (from April 2024). The position of LPS buildings is still being developed and will be based on intelligence from the information provided at registration / as part of KBI. We are hoping to publish the revised table on when PAPs can expect to be directed to apply for a BAC in November.
If an invite to apply for a BAC has not been received by a PAP, would it be good practice for a notice to this effect to be displayed in the building, to inform residence of this?
There is no requirement to do so under Act / Regulations but you may find it helpful provide this information. Existing buildings will be assessed over a period of 5 years from April 2024 so some buildings, particularly the shorter in-scope ones, may not be called in to apply for several years. We do have some anecdotal evidence of solicitors and insurance companies already requesting BACs even though this part of the act has not yet come into force.


How can you amend a small mistake on the KBI registration now it has been sent?

If you go to the website for registering the building (Register a high-rise residential building - GOV.UK (www.gov.uk)), click on "Start Now", the third option on the next screen is "Tell BSR about changes to a submitted application or a registered building".

How do we register new handover buildings after the September deadline?
The registration / KBI portal remains open as there will be an ongoing need to register new buildings (Register a high-rise residential building - GOV.UK (www.gov.uk). The process should be the same as that used for existing buildings
Is there a recommendation for APs regarding number of properties that they manage, 1 block 10 blocks etc?


There is no limit to the number of buildings you can be AP (or PAP) for, In fact, if you meet the legal definition of an AP (or PAP) you cannot delegate the legal duty. The more buildings you have, the more resource you are likely to need and the more sophisticated your management systems are likely to need to be.


What is your opinion on PAP/AP being responsible for those carrying out FRAs in buildings? i.e. a BAFE SP205 company (so accredited), but subbing out actual FRA to an 'assessor' who is not individually registered & cannot therefore prove competency


We need to distinguish between different regulatory regimes and their respective requirements and duty holders. Fire risk assessments (FRAs) are a requirement of The Regulatory Reform (Fire Safety) Order 2005 (FSO) and the duty holder under this legislation is the Responsible Person (RP). The regulator for the FSO is the local fire and rescue service.
Assessment of building safety risks (spread of fire and structural failure) is a requirement of the Building Safety Act 2022, the duty holders are APs, and BSR is the regulator. The AP and RP may be the same, but this will not necessarily be the case.
BSR will expect those with duties under the Act to ensure that people doing work are competent. BSR also expects PAPs to be an "intelligent customer" and make reasonable checks on competence as you would when choosing any contractor or external service.
If a particular technical specialism is required – such as fire or structural engineering – then membership of a relevant professional body or other accreditation can help to demonstrate competence.
We are a head leaseholder in a block that is owned by a hotel holding. We only occupy 3 floors in the building. The hotel building contains ACM which may be combustible. Are we responsible to registering the building with HSE?
This will depend on who the PAP is, as it is the PAP that has to register the building. Where there are multiple Accountable Persons for a building, the PAP will be the AP with responsibility for the structure and exterior of the building.
---
---
---
---
---
---
---
Thanks again to each of our key speakers on our webinar and again, huge thanks to Andrew for taking the time to respond to each of the questions that we did not have time for on the day.

Make sure to sign up to receive updates about our up coming webinars here and if you have any questions about any of the topics raised in this Q&A then please contact us below and one of our fire safety consultants will be in touch regarding your query.
Sign up for fire safety updates!
You'll receive all the latest news and blogs straight to your inbox.