Ventro support the call from BAFSA to install automatic fire sprinklers systems in all multi-storey car parks
It's been a little over a week since a major Incident was declared at Luton Airport regarding their multi-storey car park fire. Ahead of the full review, what do we know about the incident so far and what lessons can be learned moving forwards?

The Facts
Bedfordshire Fire and Rescue Service announced a major incident on the evening of Tuesday, October 10th, at 9:38 pm. At the height of the incident, they deployed 15 fire engines, three specialised aerial units, and had over 100 firefighters on site.


Despite original speculation of the cause being an electric / hybrid vehicle, Andrew Hopkinson the Chief Fire Officer for Bedfordshire Fire and Rescue Service, revealed that the fire was started from a diesel car and that there was "no intelligence to suggest anything other than an accidental fire that started in one of the vehicles".


Whilst the building followed all current regulations, it did not have a sprinkler system installed which Hopkinson told reporters at the time may have made a positive impact in halting the fire had they been fitted.


Following from the above statement, the fire service is in discussions with the airport to ensure future and existing car parks have sprinklers fitted


Luton Airport believe it is unlikely that any of the 1405 cars stored in the carpark at the time of the fire will be salvageable


It is thought around 25,000 airline passengers were impacted by cancellations and delays, according to analysis by the Press Association.


Other instances of car park fires in the UK
This is unfortunately not the first instance of a car park fire as there have been numerous occasions in the past 2 decades alone. Most notably, the Kings Dock car park fire in Liverpool on New Year's Eve 2017 which caused over £20million worth of damages


British Automatic Fire Sprinkler Association

Whilst information is still being released daily, incidents like the Luton Airport car park fire highlight the importance of fire protection and particularly in this instance, sprinkler systems - Ventro wholeheartedly support the call from BAFSA - British Automatic Fire Sprinkler Association for automatic fire sprinkler systems to be fitted in all multi-storey car parks to help prevent such disasters happening again.
"Almost all modern cars are significantly larger and contain much greater amounts of plastic than ever before," stated Ali Perry, CEO at BAFSA. "They produce fires which are larger and propagate much faster than was previously possible."
Perry then added: "When electric vehicles catch fire, for example, they can produce intense horizontal flames that may ignite adjacent vehicles and create large conflagrations that can eventually result in structural failure and collapse of the building concerned, in turn making it difficult for firefighters to control the fire."
The existing recommendations for fire safety measures in the construction of car parks, as outlined in Approved Document B of the Building Regulations for England and Wales and the Scottish Technical Standards, do not currently mandate the inclusion of sprinkler systems.

"It's BAFSA's opinion that this advice does not fully take into account the greater fire load of modern vehicles. This is precisely why BASFA is once again calling for automatic fire sprinkler systems to be fitted in all multi-storey car parks."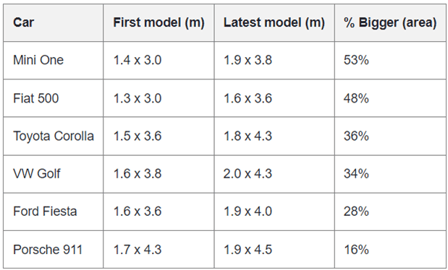 (Chart taken from AA)

What can we learn from this?


As the average multistorey car park grows in size, alongside the consistent growth of the average car, there is now more of a need to review the regulations that are supposed to protect these buildings, their users and their contents.

Ventro's technical director, Howard Melvin commented "I'm surprised that a review of fire safety legislation in multistorey car parks had not already resulted in the implementation of sprinkler systems as a legislative requirement for all multistorey car parks of a certain size. Howard added "its particularly important for car parks in key locations such as busy city centres or in this instance an important airport. The cost in damages that these fires have caused far outweigh the cost to install a Sprinkler system."
This is particularly relevant as car parks continue to grow. According to the Times, Heathrow are planning the worlds largest car park which could hold as many as 50,000 vehicles at any given time.
Howard added "With the number of cars consistently on the rise, it is important that we make sure that the buildings that house our vehicles are safe to do so. We must make sure that incidents such as the Luton airport car park disaster or even the Kings Dock car park in Liverpool do not happen again."
We are proud to support the BAFSA in their call to make automatic sprinkler systems a mandatory requirement for all multistorey car parks.
Sign up for fire safety updates!
You'll receive all the latest news and blogs straight to your inbox.