The changes in legislation to Wayfinding Signage for domestic buildings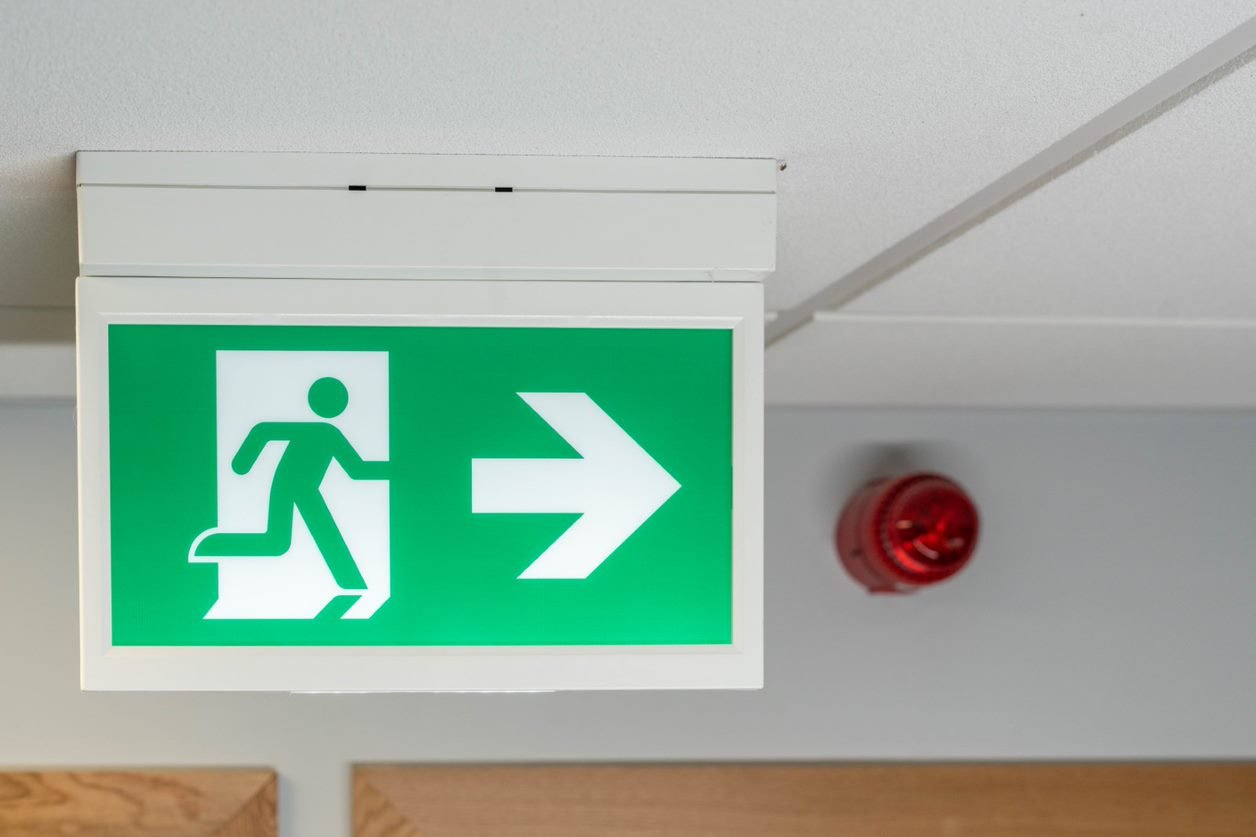 Wayfinding Signage has been an increasingly prevalent topic in 2023 as legislation changes have been introduced as well as additional best practice recommendations. In this blog we shall explore the 6 different types of Wayfinding Signage and discuss the current legislation or best practice guidance, specifically for domestic buildings.

Floor & Flat Signage

Escape Route Signage

Firefighting Signage

Low Level wayfinding & flat number signage

Stair Nosings / Edgings

Additional Building information Signage

1.
Floor and Flat signage

The Fire Safety Regulations 2022 which were introduced in Jan 2023 outlines some significant changes to wayfinding signage legislation in high rise buildings. These changes have been implemented to ensure that any person can identify quickly and efficiently where they are in the building.

The Fire Safety Regulations 2022 - Regulation 8 - Wayfinding signage

(1) The responsible person in relation to a high-rise residential building must ensure that the building contains clear markings of floor identification and identification of domestic premises.

(2) For the purposes of paragraph (1), the "markings" means an identification designed and located in accordance with the guidance in Volume 1 of Approved Document B(1) on each landing within the stairways and in the lift lobbies of the floor level marked in such a way as to be visible both in low level lighting conditions or when illuminated with a torch.

Further details: https://www.legislation.gov.uk/uksi/2022/547/regulation/8/made

These changes are in addition to the legislation outlined in Approved Doc B (Section 15.13 – 15.16) which can be found here



2. Escape Route Signage

Escape route signage is essential for ensuring that any occupants of a building can quickly identify the nearest escape route to them. There are several differing size options but it's important to use the sign that best meets the requirements of the space that the sign is being used in, for example a corridor that is 20 meters in length should utilise the 400x150 sign or comparable, ensuring that a fire escape route sign would be visible from anywhere within the communal corridor area.

400x150 – 22 Meters viewing distance.
340x120 – 17 Meters viewing distance.
300x100 – 14 meters viewing distance.


3. Firefighting signage
Firefighting signage provides an invaluable service to the occupants, clearly identifying Fire Action Notices, Riser access points or information on not using lifts during fires. This Signage is in addition to Approved Document B and BS 5499 Part 4, so is specifically tailored to suit the building and its occupants as opposed to being a legal requirement.
Signage is usually located 1.2m off the ground and housed in the zone of Influence. Additionally, Fire Action Notices should include QR Codes which can be scanned for translation with up to 30 Languages translating the Fire Action Notice for building occupants.
4. Low Level signage and Flat Entrances
Introduced as a direct result of the Shirley Towers tragedy, Coroners Rule 43 advised low-level guidance and signage for flat entrance doors in high-rise buildings. This was introduced so that individual premises within a building are easily identifiable in poor visibility conditions.
To be placed at a low level (310mm above floor level) directly adjacent to all flat entrance doors.

5. Stair nosings / Edgings

Stair Edgings are included as part of Approved Doc K which mandates that step edgings are to be apparent and obvious by utilising a material that will contrast visually to the rest of the stair. There must be 30 points of colour difference between the stair and stair edging colour as a minimum.

BS 8300 however, which is the design of accessible and inclusive environment for purpose built buildings highlights that bright luminescent edge strips are visually clearer for anyone whom is partially sighted. It is worth noting that complying with BS 8300 goes beyond the minimum requirement for accessibility.

6. Additional Building Information Signage:
Additional Building information signage is not currently part of any legislation or standard but instead is encouraged to provide occupants within a building as much as information as possible to guarantee the best possible resolution. A great example of this additional signage is highlighting that there are no premises on a particular floor. The more information you can provide to the occupants of a building, the safer they will be.

Speak to one of our Fire Safety Consultants today



Sign up for fire safety updates!
You'll receive all the latest news and blogs straight to your inbox.