Closing The Door On Danger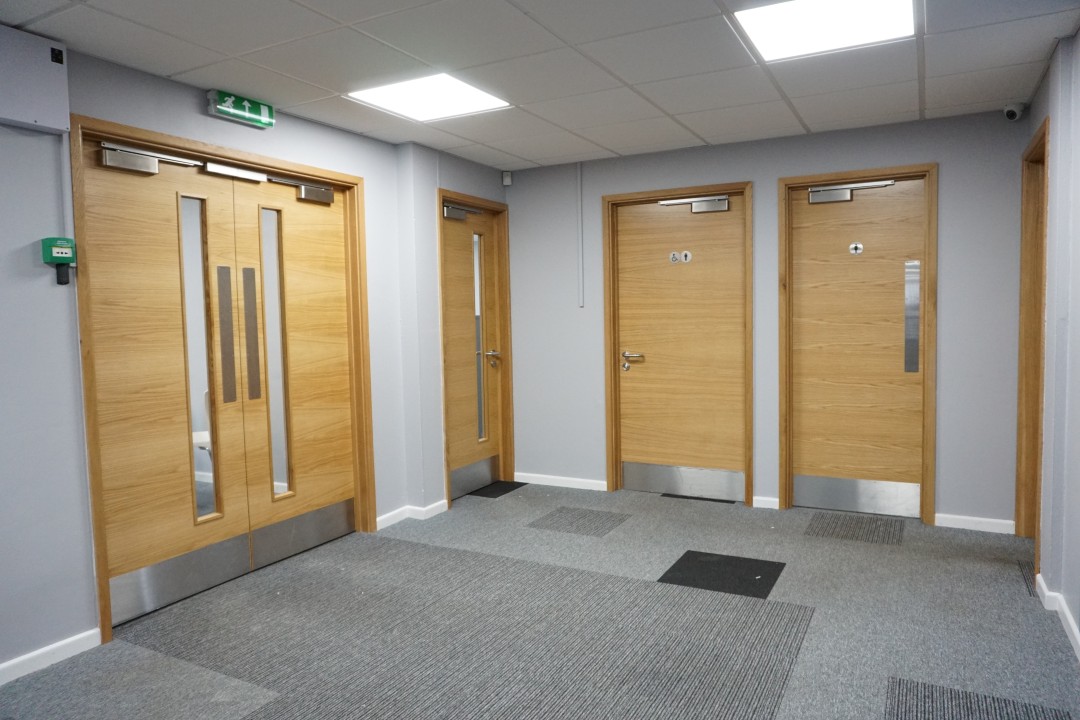 "Fire doors are more than just a door; they are an engineered life saving device"
Fire doors are often overlooked in their role in passive fire protection, but they are an integral asset with regard to fire safety (HSE). Fire doors essentially offer a barrier to hold back a fire and reduce the rate that it can develop by slowing its passage and reducing the passage of smoke. Fire doors work alongside exit points, escape routes and compartmentation to provide residents with a safe exit route and enough time to evacuate in the event of a fire, they also provide fire and rescue services with a level of protection when entering the building. Depending on the fire rating, fire doors should provide protection anywhere from twenty minutes upwards.
THE COMPONENTS OF A FIRE DOOR
The essential components of a fire door include intumescent strips and smoke seals, fire resistant glazing, fire signage and fire tested hardware such as latches, locks, air grilles, door closers and CE marked hinges. Mixing different products (even if all are independently fire rated) can jeopardize the performance of the door as a whole and so it is imperative that products are fire performance tested in conjunction with each other to ensure the maximum protection and associated fire rating is achieved.
THE THREE STEP APPROACH
We at Ventro are experts when it comes to our three-step approach of health checks, installation and maintenance of fire doors. It is essential that fire doors are correctly installed and maintained in order to provide a sufficient level of protection and uphold their fire safety rating. Common faults with fire doors in the industry include incorrect or poor installation of the door, a lack of planned maintenance, maintenance of door carried out by unsuitable or unqualified persons, the installation of ancillary door furniture that is not compatible with the door (meaning it can no longer be labelled as fire compliant) and failing to react to damages of fire doors.
THE TAKEAWAY
Our three step approach ensures that buildings are not only brought up to compliant standards but are also kept that way. Find more information here on Fire Doors or any of our other Fire Compliance Services. Or please get in touch with one of our fire safety specialists by email at contactus@ventrogroup.com or by phone on 0845 38 10 999.
Sign up for fire safety updates
You'll receive all the latest news and blogs straight to your inbox.